Miley Cyrus and the female writers of The Tonight Show Starring Jimmy Fallon led a special edition of the show's "thank-you notes" segment Wednesday night by reading personal thank-you notes to former Democratic presidential candidate Hillary Clinton, who guested on Wednesday night's show.
Cyrus — who campaigned for Clinton by knocking on college dorm room doors during the 2016 campaign — fought back tears as she thanked Clinton for being a "beacon of strength, hope, and determination for me and millions of other young women."
"You've been a role model and an inspiration, and a voice of reason in uncertain times," Cyrus added. "I could go on and on, but I'd like to get right to the point. Can I give you a hug?"
A half-dozen writers from Fallon's team also addressed thank-you notes to Clinton.
"Thank you Hillary, for all the work you've done for public health care," said Jo, one of Fallon's writers. "Ever since the election, I've really depended on my government-subsidized anti-anxiety medication."
Caroline, another writer, thanked Clinton for showing girls that "politics is not a popularity contest, because if it were, you would have won by about 3 million votes."
Clinton herself also stepped behind the desk to read a thank-you note of her own.
"Thank you Miley, 'Tonight Show' writers, and all the young girls out there," Clinton began. "You are smart, strong, and deserving of every opportunity. Together, we've made our voices heard, we've done great things, and we've come a long way. But as Miley would say, we can't stop, and we won't stop."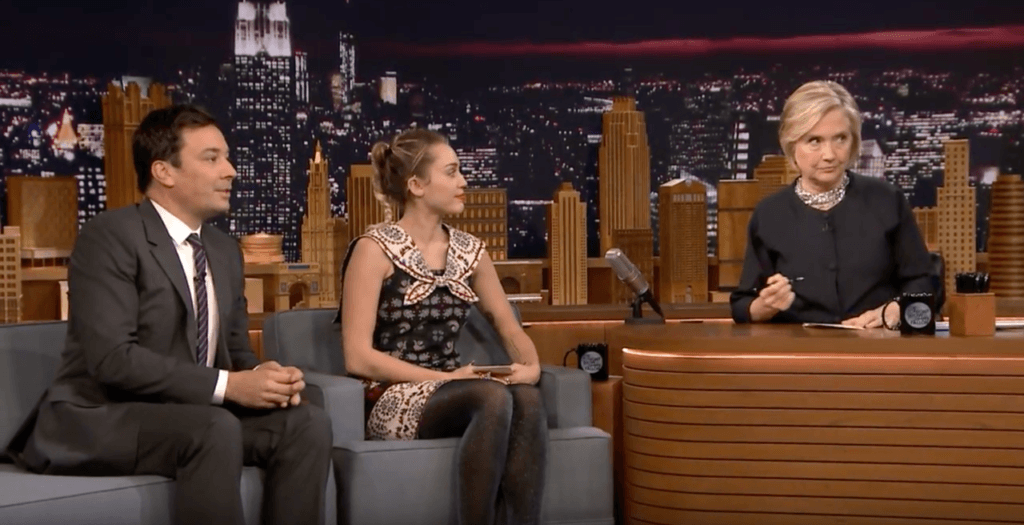 NBC
Cyrus was a vocal celebrity supporter of Clinton during the campaign, at one point calling her "a total goddess" on Ellen DeGeneres' talk show.
But after Donald Trump's eventual victory, the pop star took to social media to tearfully congratulate him, and said she was disappointed that she likely would never see Clinton become the country's first female president.
Cyrus also vowed to move out of the United States if Trump won the election, only to take back the pledge late last month.
"I'm not leaving the country, that's dumb. Because that's me abandoning my country when I think I've got a good thing to say to my country," she told NME magazine. "Wherever I am, my voice is going to be heard, and I'll make sure of it."
H/T http://www.breitbart.com/big-hollywood/2017/10/05/tonight-show-miley-cyrus-tears-reading-thank-note-hillary-clinton/?utm_source=facebook&utm_medium=social